Season 3: Inferno Saga Patch Notes
---
Tribes of Midgard Season 3: Inferno Saga is LIVE! For more information on individual sections, please read the accompanying Blog posts relating to the content!
New Features
Read the "New Features" Blog Post for even more detail!
New Saga Quest: Inferno

Added support for Saga Quest: Inferno to guide entry into the Volcanic Spire to face the biggest threat to Midgard yet, Surtr!
New Biome: Volcanic Spire

Added support for the new volcanic Biome, including all new Creatures, Materials, Camps, and Hazards to discover.
New Ancient: Surtr

Surtr has launched an all-out invasion from his lair at the peak of the Volcanic Spire. Fight your way to him to prevent burning the world from his volcanic fire!
Revenge of the Ancients:

Saga Bosses are now referred to by their Midgardian moniker of 'Ancients' in all relevant in-game messaging and text.
New Weapon Type: Spear

Added a new Weapon type, Spear! This has considerable linear reach compared to other Weapons.
The starting Villager Spear is crafted with only Wood, perfect for fighting off enemies early!

See the Crafting Section of the Patch Notes for a breakdown of the available Spears
New Activity: Fishing

Craft Fishing Rods to interact with Mysterious Ripples appearing in the water.
Interacting with the Mysterious Ripples starts a time-sensitive mini-game for additional Materials used in new recipes.
Revamped Game Over Screens

See more stats in three Game Over screens you can review or skip:

Global Results: Includes World stats such as Map Information, Enemies Slain, and Time Elapsed.
Team Results: Shows player information, including Character Levels and a top stat consisting of their highest score.
Personal Results: The final showcase of all noteworthy statistics accrued during the session, as well as where Season XP is tallied.
Survival 2.0
Read the Survival 2.0 Blog Post for even more details!
Survival Mode has been fully rebuilt from the ground up! Our aim with this re-work is to transform Survival into a more relaxed but equally exciting Tribes of Midgard experience. You can read the individual details on the Survival 2.0 Blog Post.
Core Gameplay:

No longer locked behind Season Level 2.
No Village = No Village to defend at night.
Days will last longer at 20 minutes each.
Helthings will spawn sporadically throughout the environment at night but will not attack the Seed of Yggdrasil.
Jötnar have their own Arenas that you can choose to travel to and defeat whenever you want.

Saga Quests in Survival:

Saga Quests unlock powerful Crafting Stations that will allow you to sail to new lands, craft better loot, and take on greater challenges.

Session-Based Blessing Tree and Level Progression:

An entirely new Blessing Tree has been created for the game mode that allows for more freedom to pick and choose among 90 Blessings as you see fit.
Increased the Max Character Level to 50.
No Shared Character XP.

Season/Meta Progression:

Season XP has a chance to drop from activities.
Defeating powerful enemies or raiding Camps guarantees large amounts of Season XP.
Season XP is automatically attributed to your Account Profile and contributes to Season Progress.

Large Worlds, tailored to Survival Mode:

Players start on a large, central continent and will be able to explore the open seas as they progress through the Saga Quests.
Added new ways to encourage exploration via Crafting at the Allforge

Craft Beds: Beds can be claimed to serve as Respawn points.
Craft Bonfires: Bonfires will help keep you warm in cold climates so long as you deposit Branches to keep the fires alive. Very useful when landing on a cool Ash Beach in the dead of night.
Craft Shrines: Shrines act as Fast Travel points, allowing you and your Tribe to build your own travel network throughout Midgard!

Players are equipped with the Allforge:

All crafting in Survival 2.0 centers around the building of these specific Crafting Stations for whatever you might need.

Crafting Stations can be upgraded to unlock more powerful recipes and even entirely new stations.
See the Content section below for a breakdown of all the new Construction pieces available as of the launch of Inferno Saga.

The Allforge is located in the Build Menu and can be placed anywhere, free of material costs.

Only one Allforge per person can be deployed at a time.

The Allforge will repair Equipment for a standard Souls Cost.
Crafting Stations, Constructions, and Decorations are all crafted from the Allforge.

Updated Construction to be more modular and significantly more flexible:

Constructions are scaled to fit a 1x1x1 area for increased interconnectivity.
Walls, pillars, roofs, and doors have been added.
Constructions are available in three tiers with different levels of strength and material requirements.
The camera is able to be rotated while in the Build Menu.
Constructions are able to be placed along the Z-Axis.
The Mallet is now triggered by default in the Build Menu:

Dismantle by highlighting the Construction you want to remove.
Repair Constructs in the Build Menu.

Freyja's chatty cats Sóleyra and Mániklo have arrived:

They help new Einherjar as they interact with certain triggers in the environment for the first time.

Mode selection improvements:

Survival is now showcased on the Main Play tab alongside Saga Mode.
The new Survival 2.0 game mode now comes with the option to play in a Solo session just like Saga Mode.
Players can now form Groups via Invite to Join or Create a Survival 2.0.
Blessing Updates
With Inferno Saga, every Class received 2 brand new Blessings, with some receiving changes to an existing Blessing.
Blessings are a vital part of Tribes of Midgard's genre-blending Surthrival gameplay, and we wanted to take the opportunity with Inferno Saga to re-evaluate how each of the Classes is performing and how the community has been utilizing their Blessings to create unique play styles.
As mentioned in the Survival 2.0 Blog post, the class system has been taken out of Survival Mode in favor of a brand new Blessing Tree. Different skills will be unlockable as you increase your Character Level during gameplay. These additional skills and changes will be included in the Blessing Tree for Survival Mode as well.
To read more about the changes, read the Blessing and Combat Updates Blog post.
Warrior

Underdog [NEW]: Feeling surrounded? Great! Increase damage dealt per each nearby enemy.
Warrior-Gatherer [NEW]: Labor like the Warrior gods of old! Combo attacks from any Weapon can now break Resource nodes, retrieving their precious Materials without Tools. Everything's an axe!
Reckless Roll [UPDATED]: Now avoid damage throughout the entire Evade roll animation.

Ranger

Ullr's Step II [NEW]: Ullr's Step now triggers a rain of arrows on your original position, dealing [medium] physical damage over time.
Ricochet [NEW]: Each arrow fired has a 50% chance to ricochet, bouncing to up to 3 additional enemies.
Quickshot [UPDATED]: Was originally affecting Arrow flight speed and now affects the attack speed of Bow Combo Attacks.

Guardian

Pain Release II [NEW]: Let it all out! Gain increased attack and movement speed for 5 seconds after unleashing your Pain.
Unwavering [NEW]: The judgment of Forseti is absolute. Stand your ground against any who would dare say otherwise by becoming immune to knockback effects.

Seer

Yggdrasil's Roots II [NEW]: Enemies entering the Seedling's radius receive damage from the roots of the World Tree. Wouldn't want to be on its bad side.
Sacred Revive [NEW]: Further empowered by the golden apples of youth, reviving allies now triggers a healing pool in the area, granting HP over time.
Tempered [UPDATED]: Now generates an aura that reduces Temperature effects for you and nearby allies.

Berserker

Undying Anger [NEW]: Channel the rage of war. Automatically self-revive when down and receive healing based on your current Wrath.
Wrath Soothed [UPDATED]: Gain HP for every enemy hit by your Blast.
Battle Resistance II [UPDATED]: Chance to resist Stun/Slow effects increased from 75% to 100%.

Hunter

Skaði's Spirit II [NEW]: Your Decoy is now armed with a Bow and will fire Arrows at nearby enemies.
Skaði's Wolf [NEW]: Roll to deploy Skaði's kindred spirit that will attack nearby enemies. Go get 'em boy!
Skaði's Spirit I [UPDATED]: There is now a visual indicator to show the Decoy's taunt radius.

Sentinel

Shield Throw II [NEW]: Your Shield Throw ability now throws the second shield in rapid succession.
Shield Ring II [NEW]: Shield spin to win. Your Shield Ring ability will now revolve around you a second time, dealing damage and effects twice.

Warden

Secret Stash [NEW]: Vigilance is key when safeguarding a Village's supplies, and their trade secrets! Materials carried are no longer lost upon defeat.
Rationing [NEW]: An Einherjar knows how important rationing can be in dire times. Gain a 25% chance to recover a Meal immediately after use.
Dwarven Made [UPDATED]: Now reduces Repair costs & Equipment Durability loss by 50%.

Blessing Trees

Most Classes have received an update to the layout of their Blessing Trees.
With the advent of new and updated Blessings, this new layout should also make it easier to navigate each, with a better grouping of related Blessings.
Combat Update
Changes to Invincibility Frames

Applied Invincibility Frames when Evading to all Characters, not just the Warrior.

Changes to Animation Cancelling

Added Animation Cancelling when Evading/Blocking for more responsive timing.

Changes to Mana Gains:

Successfully blocking enemy attacks with a Shield will now reward additional Mana.
You now earn a set amount of Mana per attack, regardless of how many enemies were struck in that attack.

Changes to Durability Loss:

Similar to Mana Gains, your Weapon will now only lose a set amount of durability per attack, regardless of how many enemies were struck.

Mana Loss from Powerful Foes:

Being struck by Powerful Foes will leave you winded, causing you to lose a bit of Mana from your gauge.

Powerful Foes include Jötnar, Elites (red skull indicator), Ancients, and the roaming mini-bosses of Midgard (yellow health bar).

Combat Feel and Weapon Tuning:

Slight increase to the camera shake and sense of weight from Attack SFX when landing a hit, adjusted per Weapon type.

Added the option in Settings to adjust camera shaking on a scale.

Animation timing has been adjusted for all Weapon types, to better hone-in on their combat identity and gameplay niches.
The Bow has received a more notable overhaul:

Damage of standard combo attacks has been significantly increased.
Damage and speed of Aimed / Charged Shots were reduced.
Durability increased.
Crafting
Survival Crafting Update
Crafting in the Survival Update is handled differently. To replace the handiwork of the Saga Mode Villagers is no easy task, but luckily Survival players will be able to replicate everything they do (and more!) with our trusty new Crafting Stations. Simply enter Build Mode, then the Build Menu to get started by building your Allforge. Crafting Stations can be upgraded to provide more recipes, but some may have special conditions before they can be built.
Allforge: The central crafting station from which all others are born. Does not cost anything to put down, but you can only have one at a time. It can also repair your Equipment!
Crafting Stations – Exclusively in Survival Mode:

Bed: Place it to serve as your Respawn Point when claimed.
Tool Grinder: For crafting all Tools, including the new Fishing Rods.
Meal Cauldron: For crafting the new Meal recipes.
Potion Brewer: For crafting Potions.

Weapon Furnace: For crafting Weapons.
Shield Rack: For crafting Shields.
Armor Loom: For crafting Armor.
Defense Workshop: For crafting Traps and Watchtowers.

Ammunition Shelf: For crafting specialized Arrows.
Boat Dock: For crafting Boats.

Lumbering Stand: For crafting Wood-based Ingredients.
Tanning Stand: For crafting Leather, Fur and Yarn Ingredients.
Mining Stand: For crafting Stone, Ore and Iron Ingredients.
Artifact Altar: For crafting Artifacts.

Construction Bench / Rig / Table: For crafting Constructions, like Walls, Stairs, Roofs, etc.
Portal Shrine: For fast-travel between other Shrines.
Bonfire: Provides warmth. Must deposit kindling with Branches to activate and increase duration
Storage Box / Trunk / Chest: A deployable Storage container to deposit and share resources with your Tribe (or for your own safekeeping). Inventory space is upgraded by building higher rarity Storage Boxes from improved Constructions Stations.

New Construction Pieces:

The Survival Update comes equipped with a plethora of new and adjusted Construction pieces.
Construction pieces in Survival Mode have been globally scaled down to 1×1 or 1x1x1 in terms of grid size, to increase interconnectivity and customization options.
Each Construction type comes in three tiers; ranging from twig/thatch and wood to slate/stone.

Ground – Twig/Wooden/Stone
Wall – Twig/Wooden/Stone
Wall Slope – Twig/Wooden/Stone
Pillar – Twig/Wooden/Stone
Beam – Twig/Wooden/Stone
Angle Beam – Twig/Wooden/Stone
Stairs – Twig/Wooden/Stone
Roof – Thatch/Wooden/Slate
Flat Roof – Thatch/Wooden/Slate
Roof Cross – Thatch/Wooden/Slate
Fence – Twig/Wooden/Stone
Barrier – Twig/Wooden/Stone
Door – Twig/Wooden/Stone
Double Door – Twig/Wooden/Stone
Frame – Thatch/Wooden/Stone
Angle Frame – Thatch/Wooden/Stone
Dragon Ornament – Twig/Wooden/Stone
Watchtower – Twig/Wooden/Stone

Includes an Archer to fight off nearby enemies. Can deposit more powerful Arrows to increase effectiveness.

Eir Effigy of Life:

Activate to Heal over time

Eir Effigy of Haste:

Activate to receive a Speed boost for a time

Eir Effigy of Mana:

Activate to regenerate Mana over time

Decorative Construction Pieces:

Accessed from the Allforge, players can select the newly added Decorations tab to build a selection of decorative items that will add some much-needed flair to your Viking homestead.

Torch
Brazier
Horse Idol
Dragon Idol
Banner
Chains of Fenrir
Fang of Jörmungandr
Shard of Surtr
Note: All Decorations are unlocked as Challenge Rewards, with the exception of the Torch, which is available by default.
General Crafting Updates
New Consumables Recipes: Meals

As of Inferno Saga and the debut of Survival 2.0, we've added an additional crafting tree for recipes; Meals!
Meals usually rely on natural ingredients and provide buffs and healing similar to Potions.
Meal effects tend to be weaker in potency and immediacy compared to Potions, but can be carried in higher quantities.

Sap Juice: Small Heal.
Fish Skewer: Small Heal.
Grilled Meat: Moderate Heal.
Marine Salad: Moderate Heal.
Fish Platter: Large Heal.
Coldproof Seafood I: Will grant you resistance to cold for 1 minute.
Coldproof Seafood II: Will grant you resistance to cold for 2 minutes.
Heatproof Seafood I: Will grant you resistance to heat for 1 minute.
Heatproof Seafood II: Will grant you resistance to heat for 2 minutes.
New Crafted Equipment Recipes:

Villager Spear I / II

Spell 1 – Leap: Stylish leaping thrust attack that strikes in a long line

Alvíss' Spear I / II

Spell 1 – Flurry: Unleash a flurry of three rapid-fire attacks. Upgrades to Flurry+ at Rare Tier.
Spell 2 – Healing Call: Raise your Spear up high and call down some Healing orbs.

Alvíss' Armor Set [Epic]

Armor Perk – Spear Up: Increase damage with Spears per equipped piece
Alvíss' Stormguard

Embers Spear I / II / III

Spell 1 – Fire Spin: Spin your Spear in a 360 degree arc, dealing fire damage all around you. Upgrades to Fire Spin+ at Rare and Epic Tier.
Spell 2 – Explosive Throw: Throw your Spear, dealing fire damage over time in the area it lands, before eventually exploding. Upgrades to Explosive Throw+ at Epic Tier.

Embers Armor Set [Epic]

Armor Perk – Fury: Stackable chance to increase move and attack speed after defeating an enemy.
Embers Shield

Surtr's Spire [Legendary]

Spell 1 – Fireball: Launch a powerful fireball from the tip of your Spear.
Spell 2 – Ruler Dash: Dash forward and deliver a devastating area attack.
Spell 3 – Lava Jets: Fiery blasts erupt from 3 separate points around you.

Surtr's Armor [Legendary]:

Armor Perk – Ablaze – Stackable chance to deal lasting fire damage back at your attackers.
Surtr's Ashguard
New Content
New Creature: Lavættir

A manifestation of Surtr's wrath, these fiery elementals are born of molten flame and return to it upon death. They are vengeful to the bitter end. After taking enough damage, they will double into smaller, more numerous forms, until finally becoming highly volatile explosives unto themselves. Be careful when delivering that final blow.
New Creature: Brennálfar Witch

The Brennálfar have Witches of their own, and of course, they're pyromaniacs!
Known to stalk the Volcanic Spire, watch out for their fiery orbs; they're slow-moving, but you don't want to be around when one goes off.

Rumors swirl that the most fearsome of Brennálfar Witches, Aska and Edlur, have made their way to the Volcanic Spire to protect their master's Lair. These Elites will not go down without a fight.

New Creature: Brennálfar Watchtower

These fortified Watchtowers are the backbone of any Múspel invasion force. Capable of being built rapidly, they provide Brennálfar Archers with ideal vantage points and defensible positions to ruin any Miðgarðian's day.

New Creature: Fire Turret

Dotting the entrenched pathways of the Volcanic Camps, these flame-spewing turrets protect the Camp's treasure from foolhardy Einherjar itching for a raid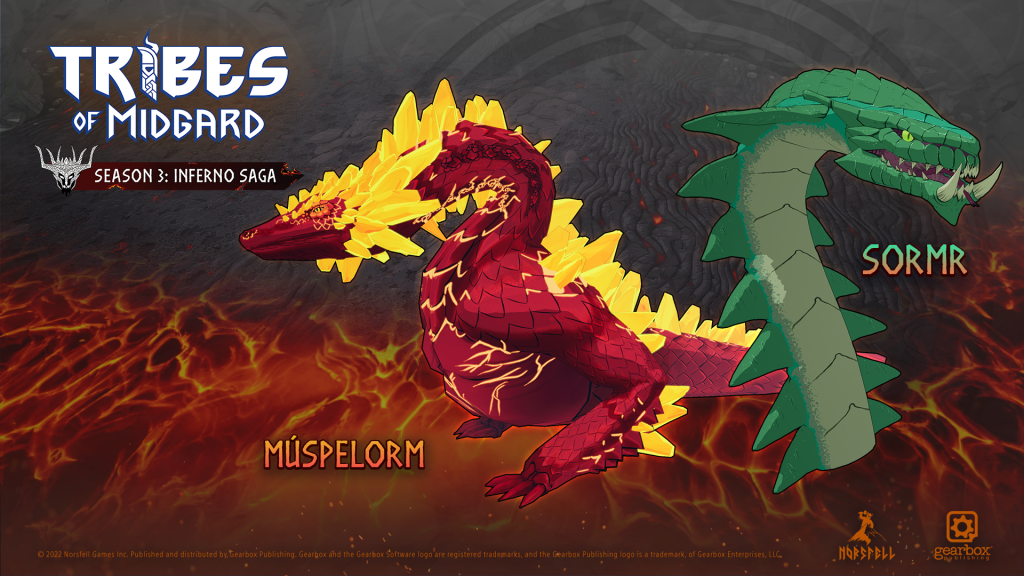 New Creature: Múspelorm

When two Linnorms fight, they use their massive tails to launch their opponents across unfathomable distances. Legend has it, no one truly knew where the losing Linnorms ended up, until now. Turns out, they were somehow launched into faraway Múspelheim, where over time, their forms evolved to not only handle the immeasurable heat of this Realm but to wield it as well. Now they're back in Miðgarð, and they breathe fire.

New Creature: Sormr

Vile spawn of Jörmungandr that have slithered their way into the Open Seas.
The Sormr will poke their heads above water to spit projectiles at any nearby Boats, so keep a watchful eye out when sailing your Drakkar.

New Critters:

We've added 5 more non-hostile wildlife critters to further flesh out the Biomes and provide an additional source of Materials like Fur and Feathers.

Fox: found in the Bright Forest
Hare: found in the Bright Forest
Arctic Fox: found in the Glacier Peaks
Snowy Owl: found in the Glacier Peaks
Vulture: found in the Volcanic Spire

New Camp: Outposts

As part of Surtr's invasion strategy, a number of Volcanic Outposts have been seen emerging across every Biome in Midgard
These emergent encampments contain a host of Surtr's forces that can be quick to overwhelm you if you stumble into one unprepared.
However, if you manage to clear one out, their treasure chests are known to contain items of great importance to Surtr's war effort. Would be a real shame if you were to use these items against him.

New Camp: Volcanic Spire Camps

Scattered throughout the Volcanic Spire are a number of heavily fortified encampments for Surtr's forces.
These entrenched Camps are a gauntlet of challenges, containing tight passages loaded with Fire Turrets spewing flame, Watchtowers firing on you from afar, and a whole squadron of molten defenders looking to protect their treasure.

New Camp: The Lair Entrance

The peak of the Volcanic Spire is the most heavily fortified of Surtr's Camps. In order to gain access to Surtr's Lair, you'll have to ascend to the final steps, beyond a moat of molten lava, and defeat his two Elite Generals.

New Ingredients: Fishables

New Materials are available at Mysterious Ripples: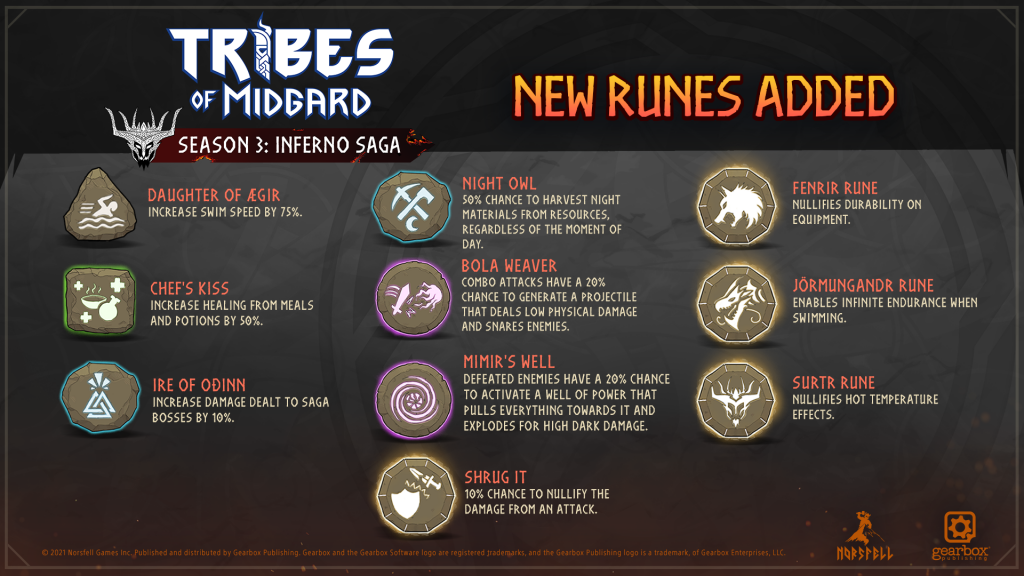 New Runes:

We have added 10 new Runes to bolster player options and provide new strategies.

Daugter of Ægir [Common]
Chef's Kiss [Uncommon]
Ire of Oðinn [Rare]
Night Owl [Rare]
Bola Weaver [Epic]
Mimir's Well [Epic]
Shrug It [Legendary]
Fenrir Rune [Legendary]
Jörmungandr Rune [Legendary]
Surtr Rune [Legendary]
New Starter Kits:

We have added 5 new Starter Kits to add further experimentation to Saga Worlds.

Nocturnal Starter Kit [Common]
Gourmet Starter Kit [Uncommon]
Boatless Angler Starter Kit [Rare]
Harder They Fall Starter Kit [Epic]
Dual Weaver Starter Kit [Legendary]

New Item: Valkyrie Delivery

Fallen on hard times and your Loot Chest is halfway across the world? Have we got the item for you! The Valkyrie Delivery consumable will instantly reclaim all of your lost belongings across all of your Loot Chests, returning them directly to your inventory, satisfaction guaranteed!
Can be purchased in-game for Golden Horns from any Sorcerer in either mode

New Event Variant: Unsunken Prisoner

Prisoner Events can now also spawn in the Ash Beach with Unsunken enemies having taken poor Ottó.

New Rewards Track:

With the official arrival of our third Season, a fresh Rewards Track is ready to be conquered! Gain progress by playing Tribes of Midgard to earn Season XP and earn bonus XP from timed Challenges. 49 new Levels and 49 new Rewards await, Einherjar!
Season Rewards from the previous Season have been shifted to the Shop and can be acquired with Golden Horns.

New Challenges:

New Class Challenges x40:

Centered on showcasing your mastery with each Class to unlock cosmetic rewards.

New Saga Challenges x4:

Centered on taking on the new Ancient, as well as managing to take down all 3 in a single World.

New Survival Challenges x18:

New Personal Quests x9:

Added a number of Personal Quests that incorporate Season 3 features and locations.
Cosmetics
In-Game Armor Recipes as Cosmetics
By popular demand, we've woven the sacred Seiðr to transmute previous in-game Armor Set recipes into Cosmetic skins for you to equip at any time from the Customize Menu!
As of the Inferno Saga, we have added the following Armor sets as Cosmetic Bundles, available for Golden Horns through the new Shop offerings:

Villager Bundle
Hersir Bundle
Raider Bundle
Feral Bundle
Nornir Bundle
Seiðr Bundle
Útgarð Bundle
Gullveig Bundle
Alvíss Bundle [New]
Embers Bundle [New]
Serpent Bundle
Fornjót Bundle
Baldr Bundle
Fenrir Bundle
Jörmungandr Bundle
Surtr Bundle [New]
New Cosmetic Sets
High Valkyrie [Cosmic] – Armor x5 and Equipment x6
Classic Viking [Mythic] – Armor x5 and Equipment x6
Járnsaxa [Mythic] – Armor x5 and Equipment x6
Fire Witch [Mythic] – Armor x5 and Equipment x6
New Pets
Foal Kyrie [Cosmic] – this loyal squire to the High Valkyrie leaves trails of the Bifröst in its wake as it trots and prances its way towards the next adventure!
Erik the Ram [Mythic] – Destined for greatness, this mighty fella is a symbol of the hardheadedness that comes with the job of being an immortal Viking protector.
Little Járn [Mythic] – Baby Járnsaxa was a whirlwind, in more ways than one…
Baby Surtr [Mythic] – Cutest. Ragnarök. EVER!
New Master Class Armor Sets to Unlock
We wanted to give fans of a particular Class the ability to show their love.
Progress through the new Class Challenges of each Class to earn a unique Cosmetic Armor Set, courtesy of the source of their divine Blessings!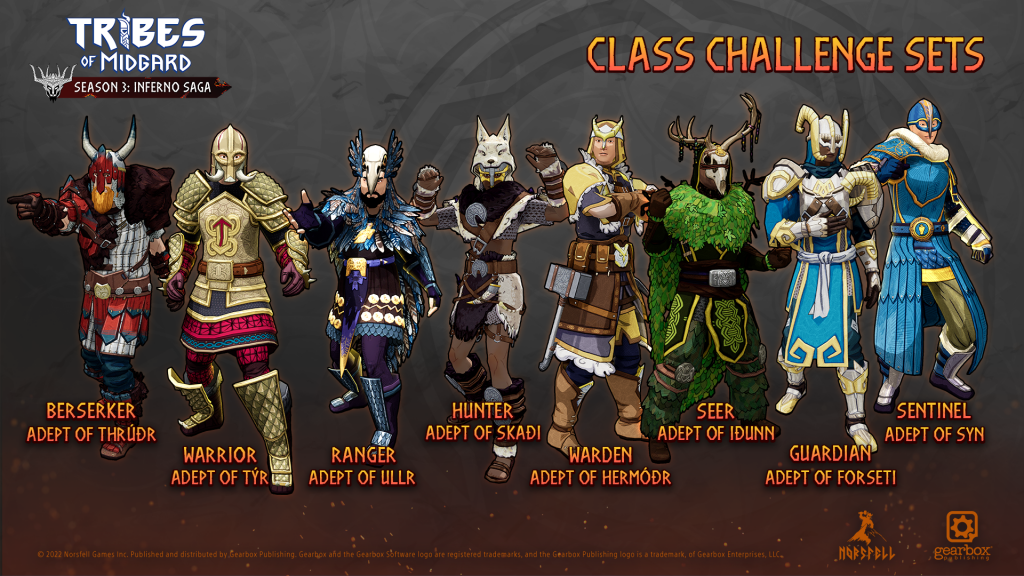 The Armor Sets to unlock are:

Warrior – Adept of Týr – Armor x5
Berserker – Adept of Thrúðr – Armor x5
Ranger – Adept of Ullr – Armor x5
Hunter – Adept of Skaði – Armor x5
Guardian – Adept of Forseti – Armor x5
Sentinel – Adept of Syn – Armor x5
Seer – Adept of Iðunn – Armor x5
Warden – Adept of Hermóðr – Armor x5
Other Cosmetics
New Eira Face and Hairstyle:

We've added a new Face and Hair customization option based on Eira, to suit either body type.

New Portraits:

A number of new Portraits have been added to the Shop and Season Rewards Track celebrating Inferno Saga content

New Loot Chest: Allchest

New Loot Chest Cosmetic fashioned after the Allforge.

New Hair Dyes:

4 new Hair Dyes were added, colors inspired by the Inferno Saga

Fallen Valkyrie Set Update

Fallen Valkyrie bundle received the following new Cosmetics to fill out the set:

Fallen Valkyrie Sword
Fallen Valkyrie Crusher (Hammer)
Fallen Valkyrie Bow
Fallen Valkyrie Spear

Cosmetic Spears for Old Sets

With the addition of the Spear Weapon type, we went back to previous Cosmetic Sets to ensure their bundles also had a Spear option so no one felt left out (looking at you, Óðinn).

Fallen Valkyrie Spear
Pirate Ship Harpoon
Linnorm Costume Spear
Helthing Spear
Monkey King Qiang
V1.K1NG Tactical Javelin
Werewolf Piercer
Allfather Yule Cane
Headless Norseman Spear
Starbjorn Spear
Einherjar Spear
Balance Adjustments
Player Difficulty Scaling has been updated in Saga Mode (Matchmaking) for a more linear difficulty curve along Player amounts.
Players now have a small Armor Value when naked, instead of 0.
Iron Deposits now drop Ore 100% of the time on harvest/destroy.
Rock Deposits now drop Flint 100% of the time on harvest/destroy.
Village Watchtower Range has been reduced by 25%, but Damage and Arrow Speed have been increased.
Sorcerers sell more basic Materials in Saga Mode.
Sorcerers sell more Potions in Saga Mode.
Village War Chest has lowered amounts of Slots for multiple Item Types.
Attack angles, pushback, timing, and damage values have been slightly adjusted for all Weapons' Combo Attacks to maintain parity between them.
Nornir Axe I & II Healing Rate has been increased to 2.5 seconds from 2 seconds.
Alvíss Hammer III Healing amount has been increased to 800 instead of 600.
Gullveig Armor is now Rare, with Embers taking its place as the Epic fire-resistant Armor.
Berserker Critical Hits I Blessing increased to 25% from 20%.
Berserker Critical Hits II Blessing increased to 50% from 40%.
Goblins Run Speed has been decreased to be 10% lower than Player's Run Speed.
Dökkálfar Archers' Run Speed has been decreased to 15% lower than Player's Run Speed.
Brennálfar Elite Stats have been reduced by 10% to 20%.
Helthings' Soul Drop chance is now 100% instead of 75% for all Helthings.
Helthings' Soul Drop amount is now doubled for all Helthings.
Hálogi Attack Cooldowns have been reduced from 5% to 20% in Saga Mode.
Hálogi Fire Spit Projectile Speed has increased by 5%.
Fenrir Scream no longer pushes back or cancels attacks.
Fenrir Doomhowler HP increased by 5%.
Fenrir Doomhowler Armor decreased by 15%.
Fenrir Doomhowler Rock-Fall Attack Damage has been decreased by 20%.
Fenrir Doomhowler Scream has been increased by 10%.
Fenrir Doomhowler Tornado Damage has been decreased by 10%.
Fenrir Doomhowler Tornado Attacks no longer push back or interrupt Player Attacks.
Fenrir Wolfmancer HP has been reduced by 25%.
Fenrir Wolfmancer Rock-Fall Attack Damage has been decreased by 15%.
Fenrir Wolfmancer Elite Wolves Stats have been reduced by 40-50%.
Fenrir Wolfmancer Regular Wolves HP and Damage Stats have been reduced by 25%.
Fenrir Wolfmancer Regular Wolves Armor Stats have been reduced by 30%.
Fenrir Wolfmancer Regular Wolf Pack has been reduced to 2 instead of 3 per spawn point.
Jörmungandr HP increased by 20%.
Jörmungandr Armor decreased by 15%.
Jörmungandr now attacks a little more frequently.
Runes Balancing

Ire of Thor Rune Efficiency decreased to 10% instead of 15%
Seidr Weaver Rune Chance to Trigger decreased 20% instead of 30%
Coldblood Rune Healing increased to 100 instead of 75
Heatstrone Rune Speed increased to 25% instead of 20%
Demolition Viking Rune Damage increased to 3000 [very high] instead of 2000
Pumped Up Rune Damage increased to 25% instead of 20%
Storm Chaser Rune Damage increased to 1000 [high] instead of 300
Nothing to Wield Rune Damage increased to 100% instead of 75%
Pathfinder Rune Mana increased to 20 instead of 10
Rolling Thunder Rune Damage increased to 600 [high] instead of 300
Bomb Voyage Rune Damage increased to 1000 [high] instead of 500
Quality of Life Changes (x36)
Pet Auto Looting:

Your bestie just got better. We've added the passive ability to auto loot nearby Materials, so long as you have a Pet equipped and the setting turned on.

As Pets focus on Material and resource collection, they will not Auto Loot Equipment, Runes, Golden Horns, or Season XP drops.

Pet Display Setting:

Pet visibility for yourself and/or others can now be toggled in the Settings Menu.

If you want to benefit from Pet Auto Looting but don't want a little knee chomper running around, you can toggle this setting.

Rune Inventory And Equipping Upgrade:

You are no longer locked to only having a maximum of 5 Runes in your inventory!
Your inventory can hold many more Runes, but you can still only equip 5 at a time (6 if you're a Warden).
This new system lets you pick up a large number of Runes, then simply Equip and Unequip what effects you want active, just like any other Equipment.

Mix and match to your Viking heart's content!

Souls (Not All) Lost:

Instead of losing all Souls upon death, you will instead lose 75% of your held amount.

This should help reduce instances of respawning and not being able to repair Gear.

Boat Damage Window:

Boats now have a brief window of invincibility each time they take damage. This is to prevent cases where a boat can get immediately decimated by getting stuck against a crag, cliff, or shoreline.

Repair All:

When going to repair your Equipment, there is now an input to Repair All Items in inventory, similar to the Donate Max functionality. Huzzah!

Donate Full Amount of a Single Material:

Now whenever in a Donate UI (ie, rebuilding a Bridge), there is an option to easily donate the maximum required amount of a given Material, in addition to donating the maximum of all relevant Materials.

Warchest Place All Iteration:

We've made the Place All functionality more obvious, as it now has its own dedicated shortcut.

Arrow and Material Bundles:

Arrows can now be crafted in Bundles, rather than individually.
Low-tier Materials, like Flint and Branches, can also be refined in bundles.

Villager Stations Open All Night:

If a player has a Villager Station open when the Villager goes off to attack incoming Helthings, the Station UI will remain open and accessible and no longer be canceled if the Villager runs off.

Village Gate Open/Closed Display:

The icons of the Village Gates will now indicate whether they're open or closed. Never leave the front door open again!

Dialogue Windows:

Any active NPC Dialogue window will automatically be dismissed if the player receives damage.

Automatic Treasure Maps:

Upon pickup, Treasure Maps are automatically consumed and reveal the relevant position on the Map. They will no longer occupy a Consumable slot.

Hunting and Healing:

When defeating critters (Deer, Crabs, Foxes, etc.), they have a chance to drop healing orbs. This is helpful to sustain your HP, especially in the early game.

Auto Save Update:

The Auto Save system has been reworked so it's no longer based on the Day itself, but a standard 10-minute timer (especially since Survival Days are longer), with additional triggers when completing major milestones, such as defeating Jotnar and Saga Bosses, or when a player leaves the World.

Rotate Camera:

Can now Rotate the Camera orientation when in Build Mode and keep it.

Construction Grid:

Can now Raise or Lower the Construction Grid when in Build Mode.

Bifrost Safe Zone:

The Bifrost is now a temperature-safe zone and construction-safe zone.

Quest Selections:

Immediately upon entering Saga Mode, the Saga Quest selection UI will now render, prompting a path to track.
In any mode, confirming a Saga Quest will now dismiss the Menu.

The same dismiss behavior applies to Personal Quests at the Quest Board.

Season XP Gauge and Level Ups:

We've added a Season XP tracking gauge to the player's HUD, right above their Avatar Level
In Survival, if you've picked up enough Season XP, you'll receive a Season Level Up effect while still in-game, similar to when the Character Levels up.

Ally Contextual UI:

In an effort to display more information to your allies, the Power Level and Character Level of each player's Viking will now be listed next to their name as they run around in the World.

Biome UI for Underpasses/Hideouts/Lairs:

The name and Power Level of these instances now appear when entering them, making identification and difficulty anticipation easier of the danger to come.

Loading Tips:

Are now split between Saga and Survival and have new Tips centered on Survival.

Main Menu Update:

Updated to reflect the new prominence of Survival Mode as well as clean up the flow and navigation.
Progress Tab updated to better show the categories:

Each section in the Progress Menu will now display how many you've unlocked/achieved for each, along with a handy progression bar.
All Challenges in the Challenges section now track your Progress towards unlocking them.

Hide Challenges:

You can now toggle the Daily/Weekly/Festival Challenges display on the Main Menu

Store Update:

New Cosmic Rarity!: We've added a rarity tier above Mythic. Known as the Cosmic rarity, you'll recognize them by their trademark Bifröst rainbow icon dressing. All Cosmic-level Cosmetics receive additional attention when it comes to their visuals, audio and effects.
Bundles: added a new Bundle Tab to the Visual section to access all Cosmetic Sets at all times.
Better Pack Value: Platinum Coins now offer bonus Coins based on the Pack size.
Visuals: Beautified presentation throughout and have a clearer showcase of discounted items.
Better Navigation: General UX and readability improvement to the main page and sub-menus.

Shortcut Harmonization:

To ease UX and muscle memory, we've harmonized a number of UI inputs for similar behaviors across several Menus

New Key Binding Options (PC):

To improve accessibility when Building constructions on PC, players can now adjust the bindings for:

Build Menu
Grid Up
Grid Down
Camera Left
Camera Right
Repair
Dismantle

Quit Game Tab:

Added a Quit Game Tab in the Settings Menu, so that the importance of the Save & Quit and Abandon World buttons aren't buried beneath several settings options.

New Accessibility Tab in the Settings Menu:

Added Colorblind Filter setting
Added Colorblind Intensity setting
Added a Photosensitivity setting

Settings Shuffling:

Aim Assist and Waystone Activation, amd Screen Shake were moved to the new Accessibility Tab

Screen Shake Scaling:

You can now adjust the intensity of the Screen Shake effects, from 0 to 10.

Kill Your Viking (Are you Sure!?):

Added a confirmation prompt when selecting the option to Kill Your Viking from the Settings Menu. This should help to avoid accidental sacrifices.

Hyper Wide Support:

Added 5120×1440 to the list of available resolutions.

Visual Effects Optimization:

We've done a pass on Blessing, Weapon Spell, and Rune visual effects in a global effort to improve performance across all platforms.
Some effects have received visual updates as a result but should perform better regardless of hardware or platform.

(PC) Clickable Social Links on Main Menu:

We've updated and added a number of external links (along with unique icons) linking to the various Tribes of Midgard social platforms for ease of accessibility and awareness
Links provided (all tracked through Bitly for stats):

Discord
Forums
Midguardians Sign-Up
Newsletter
Twitter
Youtube
Twitch
Facebook
Misc Changes (x8)
Saga Quests and the Sanctuary:

As juggling Saga Quests becomes an increasing part of the Einherjar lifestyle, we've opted to make expanded use of the Sanctuary stones hub where players first spawn-in to their Worlds.
The Sanctuary stones now bear the markings of the Ancients and can be accessed to track and review the Saga Quests available
As Saga Quests are completed and their corresponding Ancients are slain, the markings on the stones will light up, signaling the great victory and the fall of a great foe.
In addition to the Ancients we've added the Jötunn Saga Prologue quest centered on gearing up to defeat your first Giant in Saga Mode.

Inactive Quest NPCs:

You can now speak to a Quest NPC even if you don't have an active Quest with them.
They will respond with a new dialogue entry, often prompting the player to seek out the Quest Board and return

Wolf Tiering:

We've updated the models and textures for Level 2 and 3 Wolves across all Biomes to better communicate their power and threat level.

Face 2 Update:

We've updated the Face 2 option for both body type customizations.

Codex Update:

Codex has been updated with icons and description loc for all newly added Inferno entries

Loot Chest Opening:

Loot chests received an updated opening animation.

Bifröst Popup:

Added some additional visual flair to the Bifrost pop-up when electing to exit Saga Mode after taking down at least one Giant.

Cool it, Bifröst:

Bifröst Teleport VFX no longer playing when coming out of an Underpass or Hideout.
1 Year Anniversary Event
From August 23rd to September 12th, 2022, be sure to join us in-game as we celebrate one year of Tribes of Midgard! During the Anniversary Event, there will be a Village and Main Menu makeover, costumed enemies, and 3 Festive Challenges that can be completed during this time-limited event. More information coming next week! Keep an eye out for those chickens…
Known Issues (being actively worked on):
Construction Limit:

While the amount of Construction pieces in a World is limited to 500, loading can sometimes cause synchronization issues when rejoining a saved World that has hit that limit. Note that on top of addressing this issue, Norsfell is also very much working on increasing this limit.

Bow Attacks:

Misfiring during Bow combo attacks can sometimes occur when stacking of lots of ATK Speed boosts (Blessings, Runes, Potions).

Spear Weapon:

Footsteps SFX sometimes not being played while running with a Spear.

Fossegrim:

Buffs applied by Fossegrim to other enemies will sometimes remain on enemies even after the Fossegrim has been defeated.

Beacons:

Fog of war over a Beacon icon is occasionally not revealed by Beacon Treasure Maps.